Watch Joe Biden, Just to See What MTG Does
The president delivers his State of the Union address tonight before the GOP-controlled House, divided Senate and Americans who are ready to move on. Plus: Mark Hamill signs his name for Ukraine
RiseUP With Dawn Ennis is a reader-supported publication. To receive new posts and support my work, consider becoming a free or paid subscriber.
Thanks for rising up on this Tuesday, Feb. 7, 2023. On this day in history, a plane arrived in New York carrying four guys, ranging in age from 20 to 23, who changed the world forever. "Ladies and gentlemen, THE BEATLES!" It was 1964, and two days later, with those words, the legendary television variety show host, Ed Sullivan, welcomed the mop-top Fab Four to America.
Here Now the News:
THE SOTU: For those who don't know, that's the acronym for "State of The Union," and tonight at 8 p.m., President Biden will deliver this almost-annual televised address before a joint session of Congress that seeks to look back on his past two years in office, set his agenda for 2023 and make the case for a potential re-election bid in 2024. Polls show most Americans, even Democrats, are ready for a change (Election Day is still a year and nine months away, just so ya know). — The Associated Press
HERE'S WHY YOU SHOULD WATCH: While it's customary for the president's party to give him repeated standing ovations and the opposition party to sit on their hands except when it suits them to applaud, it's entirely possible Republicans may boo Biden, or chant "Let's Go Brandon!" (a phrase that serves as a more polite substitute for "Fuck Joe Biden"). I'm expecting Rep. Marjorie Taylor Greene (R-Ga.) to throw something, or maybe Rep. George Santos (R-N.Y.) will race Biden to the podium and start delivering his speech, claiming he's the actual president of the United States?
WHAT I DOUBT BIDEN WILL DO, BUT I'D DO IF I WERE POTUS: After handing copies of his speech to Vice President Kamala Harris and newly-elected Speaker Kevin McCarthy (R-Calif.), I'd pull a stack of papers out from the binder as I gave it to McCarthy, and say, "Oops, someone call the FBI! I found some more!" Yeah, I know, I get it, but I still think it would be hilarious!
NO ACRONYMS, TRICKS TO MINIMIZE STUTTER: A fascinating inside look at how the president prepared for tonight from The New York Times.
TURKEY EARTHQUAKE OFFICIAL DEATH TOLL AT 4,300: The A.P.
AIR FORCE REPORT CLAIMS CHINA SPY BALLOONS FLEW OVER U.S. DURING TRUMP ADMINISTRATION: CNN
COULD RIGHT TO ABORTION BE RESTORED USING THE 13th AMENDMENT? A federal judge said so in a ruling in Washington, D.C. — CNBC
REMEMBER THAT FIRST GRADER WHO (ALLEGEDLY) SHOT HIS TEACHER? A lawyer claims he also tried to choke another teacher. Lovely. — CBS News
CHILDREN (ALLEGEDLY) ABDUCTED BY MOTHER A YEAR AGO REUNITED WITH DAD, REMAIN IN SHOCK: NBC News
FUNDING A SOLUTION TO MIGRANT CRISIS: V.P. announces private companies donating $1B to help communities south of the U.S. border. — NYT
READY TO EAT? NOT UNLESS YOU'RE READY TO BARF: NPR has the list of more than 400 food products linked to listeria poisoning. Check your pantry!
OMGnews
WILL KEVIN COSTNER RIDE "YELLOWSTONE" OFF INTO SERIES-ENDING SUNSET? And is that Matthew McConaughey riding to the rescue with a spinoff? Alright, alright, alright! —Deadline
WHY BEYONCÉ FANS FEEL GRAMMYS ROBBED HER: The superstar has won more Grammy Awards than anyone in the history of music. But not Album of the Year, not ever, which Sunday night was awarded to Harry Styles. — Washington Post
OPRAH'S SPACE BABIES SECRETLY CONTROL AIRWAVES! The National Enquirer, which did not actually publish a story with that headline, has been sold. — NBC News
Trans World
NEW RULES, NEW BIGOTRY: Surfing champion Bethany Hamilton said she will not compete against transgender athletes after the World Surf League passed new a testosterone level rule, which allows for trans athletes to compete. — Mediaite
FOR EVERY BIGOT, THERE'S AN ALLY: U.S. Women's soccer star Becky Sauerbrunn wrote an opinion piece for the Springfield News-Leader offering her support for transgender athletes in women's sports. — Mediaite
ANOTHER WEEK, ANOTHER ANTI-TRANS HEARING IN MISSOURI: Rabbi Daniel Bogard will drive 2-hours to Jefferson City today to testify against the GOP super majority's anti-trans agenda, which is targeting his 9-year-old trans son and all trans kids in Missouri. — Los Angeles Blade
MY EXPANDED REPORT ON ADM. LEVINE'S VISIT TO YALE: The out trans assistant secretary for health talked with me about misinformation regarding Long Covid, and later spoke about gender-affirming care. — Los Angeles Blade
Yes, we took a selfie together! I first met Adm. Levine at the GLAAD Media Awards several years ago, and my story about her won GLAAD's Outstanding Online Journalism Award last summer! Click here to read that story
Use The Pen, Luke!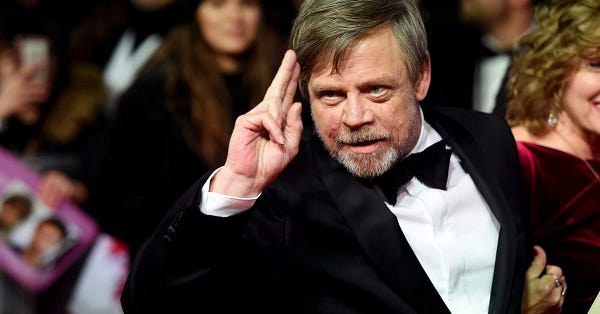 politi.co
Luke Skywalker to sell signed Star Wars posters for Ukraine: May the funds be with you!
Actor Mark Hamill to sign merchandise to raise cash for Zelenskyy's army.
MARK HAMILL'S UKRAINE FUNDRAISER: The actor forever famous for playing Luke Skywalker in the fan favorite franchise — as well as his incredible voiceover work — revealed last week he's going to autograph Star Wars posters to help fund the Ukraine forces fighting to regain their country from Russian invaders.
When he does sign his name, Hamill often adds a humorous message as well:
Details to come this week, says the actor. — Politico
HOW MUCH COULD HAMILL'S SIGNATURE ON A STAR WARS POSTER BE WORTH? Check this out from eBay:
And also check out this guide to verifying if a Mark Hamill autograph is really his, by clicking here!
Thanks for rising up with me this morning. Tomorrow and all this week, I'll be back with a special treat each day for fans of Star Trek. Until then, may your news be good news!
© 2023 EnniBuddy Productions - All Rights Reserved